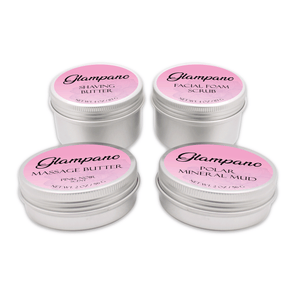 Shave it, massage it, mud mask it and scrub it down. Let us worry about how to make you glow, and you do the rest.
Our shaving butter is so rich, it leaves your shaved areas as smooth as can possibly be. Choose between our Arctic Mud Mask to help rid dark spots and prevent wrinkles or detoxify and much more with our Foaming Facial Scrub full of coffee goodness.
Think you're done? Nope. Stretch out and get somebody to rub those tired muscles or feet down with our super glide massage butter. No sticky mess.

What's included:
(1) Arctic Mud Mask - 56g
(1) Foaming Facial Scrub - 113g
(1) Massage Butter - 56g
(1) Shaving Butter - 113g

Arctic Mud Mask Ingredients:
(Base Elements):Aluminum, iron, potassium, magnesium, calcium.
(*Trace Elements):Titanium, sodium, barium, phosphorus, vanadium, copper, zinc, zirconium, beryllium, calcium, chromium, cobalt, manganese, nickel, potassium, sodium, strontium.
*Trace element levels are normal levels found in soil.
None of the results show toxic levels in any of the metals present.

Massage Butter Ingredients:
Simmondsia Chinensis Seed Oil, Hydrogenated Vegetable Oil, Tocopherol, Fragrance
Shaving Butter Ingredients:
Glycerin, Aqua, Sorbitol, Sodium Cocoyl / Lauryl Isethionate, Disodium
Lauryl Sulfosuccinate, Sodium Chloride, Levulinic Acid, Potassium Sorbate, Fragrance

Foaming Facial Scrub Ingredients:
Aqua, Roasted Coffee Oil (and) Hydrogenated Soy Oil, Medium Chain Triglycerides, Glycerin, Sodium Cocoyl Isethionate, Sorbitol, Disodium Lauryl Sulfosuccinate, Sodium Chloride, Phenoxyethanol, Tetrasodium EDTA, Pumicite, Coffee Aribica Seed Powder